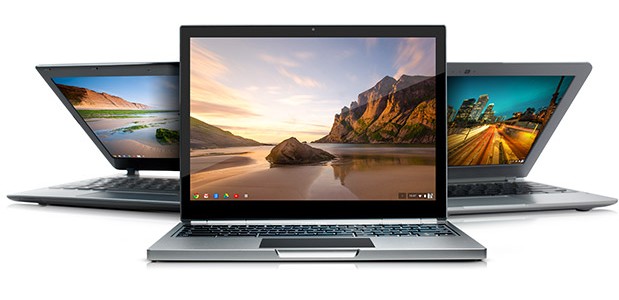 ---
With PC sales in decline and Windows XP no longer supported, businesses have some decisions to make.  What hardware should we use to get the job done going forward? The computing landscape has changed considerably in the last 10 years. Gone are the days of Microsoft dominance. The cloud has enabled collaboration from anywhere. Tablets and smartphones are now the devices of choice.  People expect to work from anywhere with any device.  Google is leading the way in the cloud (Google Apps for Work as an example) and with Android mobile devices.  Basically, they're innovating technology that makes work better.  One Google initiative that has gone largely unnoticed by businesses to date is the Chromebook.  It's a new breed of computer that is fast, secure, and cost effective this is easy to manage.
Here are 5 reasons why businesses of all sizes should take a closer look before making a purchasing decision.
They're secure.  Do you like the idea of not having to worry about viruses and malware?  Chrome OS (the operating system on Chromebooks) is essentially just the chrome browser on steroids.  So if it detects anything else running it will repair itself.   If a Chromebook is lost or stolen, a new one can be handed out immediately. Even colleagues can share the same one.  The data shared with Drive is safely stored in the cloud.  Any data on the Chromebook is encrypted and can only be accessed via Google account credentials.  For more details on security, refer to this Google article.
They have deep integration with Google Apps. If your company currently runs Google Apps for Work (Gmail, Calendar, Drive etc) then your company has already bought into the Cloud and is reaping the rewards.  Although, you can use any browser on any OS to access Google Apps, Chromebooks allow you to have tight integration with Google Drive for all your document storage and Chromebooks can be managed from the same admin console that manages Google Apps for Work users.  Google is also working on bringing Android apps to Chrome.  Stay tuned.
They're fast.  When I flip the lid on my Chromebook pixel, I'm working in less than 10 seconds.  With my new windows laptops over the years, I could go grab a juice while it was loading,  After a few months of use, I was making breakfast while waiting.  My Chromebook pixel is as fast now as the day I got it.
They're cost effective.  Since they are cloud focused, they don't need huge hard drives and other components that drive up  the cost.  A good processor, screen, battery life, keyboard and touchpad are key features to watch for.  A decent Chromebook will set you back about $300.  That's 2 Chromebooks for every iPad!  When compared to a PCs lifecycle cost, Google says that approximately $5000 can be saved for every Chromebook purchased.
They're simple to use.  If a user is comfortable with a browser, they can work in a Chromebook.  I've seen many windows users switch to Mac and eventually like it but were often frustrated with the learning curve.  With a Chromebook, users are up and running and comfortable in minutes.  Admins with the chrome management licenses can pre-install apps and extensions for users and set policies to make things even simpler for users while also meeting company requirements.
Is your company looking for help with Chromebooks?    Do you currently run on Google Apps for Work or are considering it?  As a Google for Work partner, we can help you get the most out of Chrome and Google Apps.  For more information, call Perpetual West at 1-877-388-6400 or contact us here.