---
Increase Your Daily Activity While You Work
---

Are you looking for a way to be more active while you work?  Avoid sitting for hours and enjoy the freedom of walking instead!  The WalkTop™ Treadmill Desk is the most stylish, versatile, adjustable treadmill desk top on the market.  Read documents, work on a laptop or tablet, take conference calls & more.
The WalkTop™ Treadmill Desk attaches directly onto your treadmill and turns it into a fully adjustable walking desk. Compact, lightweight, and fully pre-assembled, the WalkTop™ installs in under a minute.  Effortless to adjust, the height and incline can be changed to accommodate multiple users or alternate between various settings to maximize comfort.
Made of aluminum and stainless steel, the frame provides a solid work surface that can support up to 50 pounds. The transparent desktop lets you clearly view your treadmill controls and your feet.  The patent pending outer rail system will support the addition of future accessories (such as desk lamps, fans, cup holders, pen trays and book ledges).
---
---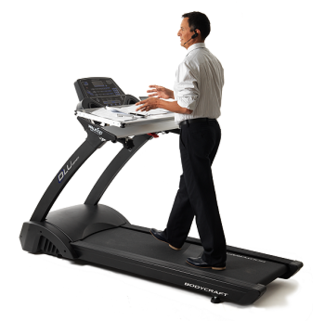 Fits Most Treadmills
Comes fully assembled and can be installed in minutes on most popular treadmills on the market.
---
Light and Compact
Is light enough to be lifted by one person and folds flat for storage or transport between locations.
---
Ergonomically Tested
Adjusts easily to the most comfortable height and incline position for each user (i.e. closed, inclined or level).
---
Use as a Standing Desk
The Walktop™ Treadmill Desk can be used as a temporary standing desk just by stopping the treadmill.
---
---
Manufactured by Fitneff Inc. [Perpetual West is a Fitneff Canada Affiliate Partner]
Dimensions: 451mm x 1071mm x 113mm (17.76″ x 42.17″ x 4.45″)
Weight: 11.31 kg (24.9 pounds)
Aluminum and stainless steel frame, transparent desktop
Work surface can support up to 50 pounds
---

Treadmill Fitting Guide – Will the WalkTop™ Treadmill Desk fit my treadmill? Click here to download a PDF of the Treadmill Fitting Guide.

Fitneff Canada Blog – click here to learn more about fitness, efficiency and the workplace.
---
---
Are you interested in purchasing the WalkTop™ Treadmill Desk for your business or home office?