Elevate DeskTop™ DT2 Sit-Stand Desk
---
Think Outside The Box and Stand While You Work
---
The Elevate DeskTop™ DT2 sit-stand desk is designed for working professionals who want a flexible workspace.  The height of the Elevate DeskTop™ DT2 can be moved from sitting to standing height in seconds and allows users to experience the health benefits of standing throughout the work day.
---
---
One Size Fits All
DT2 accommodates users up to 6'6″ and elevates 2 inches higher than competitors.
---
Choice of Styling
Available in 3 finishes: Dark Wood, Light Grain Wood and Modern White
---
Retractable Keyboard Tray
Keeps your keyboard and mouse at the ideal ergonomic height.
---
Health Benefits
Professionals report increased energy by alternating between sitting and standing
---
---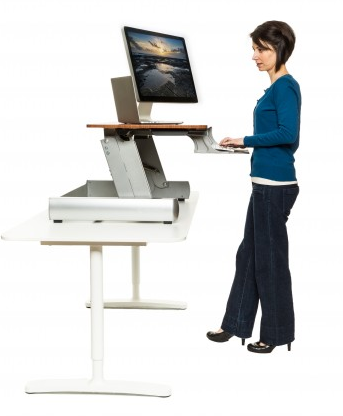 ---
---
Work Surface: 41" x 26.2"
Vertical Travel: 14"
Ergonomic Keyboard Tray | Keyboard Tray Dimensions: 25" x 10.5"
Colors: Dark Wood, Light Wood, White

Maximum Weight Capacity: 35 lbs. or 15.8 Kg

Desk Depth Compatibility: 28"

1 year warranty

Product sold through Fitneff Inc.
---
Are you interested in purchasing the Elevate DeskTop™ DT2 for your business or home office?
---
---
The WalkTop™ Treadmill Desk attaches directly onto your treadmill and turns it into a fully adjustable walking desk. Compact, lightweight, and fully pre-assembled, the WalkTop™ installs in under a minute.  Effortless to adjust, the height and incline can be changed to accommodate multiple users or alternate between various settings to maximize comfort.
---
---
---