---
Hands-Free Solutions For Your Business
---
From wireless headsets to Bluetooth headsets, Plantronics has the right hands-free solution to meet your business needs.   Used by every Fortune 100 company as well as call centers around the world, Plantronics focuses on providing customers with personal communication devices that keep you and your team seamlessly connected.  As a Plantronics Authorized Partner, we use Plantronics headsets exclusively and work with our clients to find the best Plantronics headset to meet their needs.
---

---
---
Why Should Your Business Choose Plantronics Headsets?
---
INDUSTRY LEADER
For over 50 years, Plantronics has pioneered new trends in audio technology by creating innovative audio devices that allow people to communicate naturally, as if they were face-to-face.
DESIGN & INNOVATION
By combining the highest quality materials with the latest innovations in design, Plantronics creates audo devices that are small and sleek with crystal-clear audio on both sides of the call.
CUSTOMER SERVICE
Plantronics is known for their award-wining tech support and extraordinary service – supporting customers around the world throughout their products's entire lifecycle.
---
PARTNERSHIP
Plantronics and RingCentral have created a strategic partnership that integrates Plantronics UC headsets with RingCentral for Desktop.  This means that Plantronics UC headsets are now fully integrated with RingCentral Office and users have complete headset call control (including call answer, end, volume and mute synchronization).  Additional benefits include: 1) no additional set up is needed, and 2) Plantronics UC headsets can connect wirelessly to many devices (i.e. desk phone, PC's and mobile devices).
---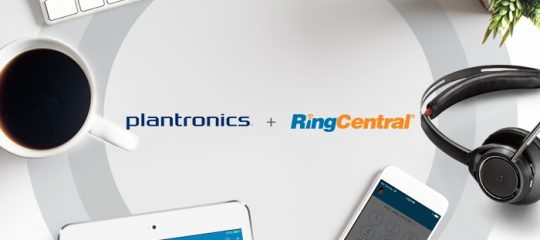 ---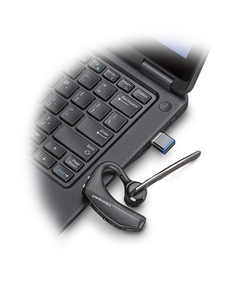 ---
Voyager 5200 UC
Be ready to take the call with the Voyager 5200 UC Bluetooth headset.  This headset features our most advanced, adaptive noise cancelling and WindSmart technology.  It identifies and cancels out disruptive noise, like wind, enabling you to be heard clearly and seamlessly transition from one environment to the next.
Works seamlessly across desktops, mobile phones, tablets, Bluetooth-enabled desk phones and smart watches
Smart sensors answer calls by simply putting on the headset and transfer calls between mobile phone and headset
Up to 30 meters of wireless range from supported smartphone or laptop with BT600 USB Bluetooth adapter
Enhanced voice alerts announce caller ID, mute, connection status and talk time level
Simply say "answer" or "ignore" to manage incoming calls
Talk Time – up to 7 hours of talk time | up to 14 extra hours with charging case | up to 9 days of standby time |up to 9 days standby time | up to 7 days standby time when connected to BT600 USB Bluetooth adapter
---
---
---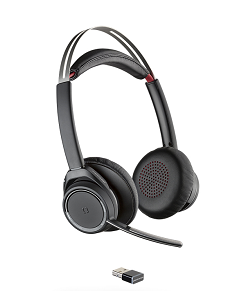 ---
Voyager Focus UC
Make it your business to hear and be heard with the Plantronics Voyager Focus UC stereo Bluetooth headset.  Move fluidly between PC and smartphone and between work and entertainment with rich, immersive stereo and active noise cancelling designed to keep your focus on work, not on the chaos around you.
Works seamlessly across PC, mobile phones, tablets, Bluetooth-enabled desk phone and smart watches
Smart sensors answers calls by simply putting on the headset, mute by taking the headset off and pause music for incoming calls
Up to 30 meters of wireless range
Active noise canceling technology helps block out distracting sound
Up to 12 hours of talk time per charge
---
---
---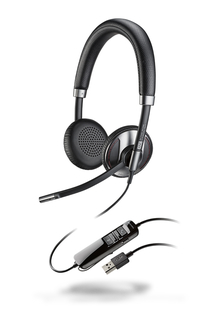 ---
Blackwire 725
The Blackwire 725 USB headset helps you tune out distracting noises so you can tune in to your work.  Using Active Noise Canceling (ACN) technology to block unwanted sounds, a noise-caneling mic for clearer PC-based conversations, and hi-fi stereo sound for music and multimedia, the Blackwire 725 helps you close out the noise and stay in the zone.
Connects to PC and Mac via USB
Smart sensor technology lets you answer a call by simply putting on the headset
Inline indicator lights and user friendly audio alerts the user to connection, mute and volume status
Hi-fi stereo (dual ear) wearing style for richer, more immersive audio. Features ear cushions that fold flat, and includes a high-quality carrying case for easy storage
Features ear cushions that fold flat, and includes a high-quality carrying case for easy storage
---
---
---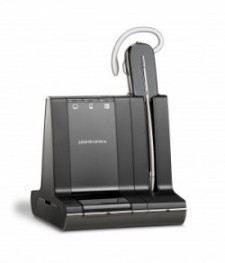 ---
Savi 700 Series
The Savi 700 series is changing the way productivity-focused office professionals communicate.  Ideal for professionals who use a mix of PC, mobile and desk phone communications in the office for conference calls, webinars, video conferencing and listening to multimedia.
3-way connectivity to easily switch and mix PC, mobile and desk phone audio
Easily transfer audio between headset and mobile phone to take calls on-the-road
UC presence automatically updated when on a PC, mobile or desk phone call
Customizable wearing options to match your personal style
Up to 350 feet of wireless range
Hot swappable battery for unlimited talk time
Noise-cancelling microphone reduces background noise interuptions
---
---
---
---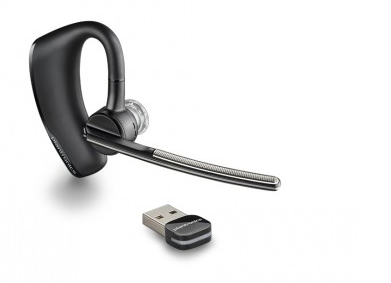 ---
Voyager Legend UC
Plantronics Voyager Legend UC is the most complete solution for your mobile life offering connectivity to PC, smartphone or tablet. The headset understands how you want to talk, with industry-first Smart Sensor™ technology and advanced voice commands and alerts.
Intuitively directs calls to your phone or headset, pauses music for incoming calls, and allows you to automatically answer by simply placing the headset on your ear.
Multi-microphones optimize your voice and minimize noise caused by wind, movement and background sounds.
Voice Commands – Just say 'Answer' to take a call. Tap the Voice button to check battery level or ask "what can I say?" to hear a list of commands
Ideal for mobile professionals who use PC audio, mobile phone, or tablet communications
---
---
---
---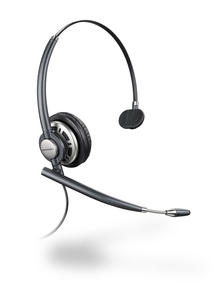 ---
EncorePro 700 Series
Reward your top performers with our top-of-the-line Plantronics Encore Pro 700 headset series, designed for customer service representatives.
Connects to PC or desk phone with Plantronics audio processors
Unique, extendable boom ensures precise positioning, enables optimal noise cancelation and means customers hear every word
Soft and comfortable leatherette earpads | Adjustable fit enhances all-day wearing comfort
Quick Disconnect feature provides walkaway convenience and compatibility with all Plantronics USB and desk phone audio processors and with direct connect cables
---
---